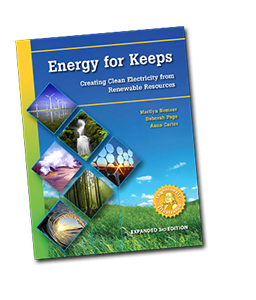 Please see www.energyforkeeps.org to learn about Energy for Keeps: Creating Clean Electricity from Renewable Resources. We are more than just a little proud of our just-published expanded 3rd edition. Prior editions have won two national awards from the green power industry.
Also, you can visit the Geothermal Education Office (GEO), at  www.geothermaleducation.org.
The Geothermal Education Office (GEO) is an affiliate nonprofit of The California Study. The organizations work closely together and are both directed by Marilyn Nemzer. GEO was incorporated in 1990. This group produces and distributes educational materials about geothermal energy to schools, energy/environmental educators, libraries, industry, and the public. GEO collaborates frequently with education and energy organizations with common goals, and, through its website, responds to requests and questions from around the world. For more information, please go to GEO's very instructive and popular website, www.geothermaleducation.org.
……